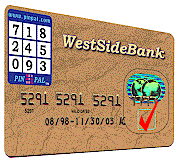 PIN PAL is a special label that attaches directly to secured products allowing an authorized user to instantly recall the correct access code. With PIN PAL, you will "Never Again" forget a PIN because it is encoded directly on your Bank Cards, Cell Phone, Locks or PDA. Just look at the PIN PAL label and recall the PIN. Simple, Safe & Secure!

PIN PAL can recall 100 different PINs on 100 different Cards, every time, the first time. Even if you have not used your Card in over a year, PIN PAL will recall the correct PIN ... Instantly!


Here are two PIN PAL labels. The label on the left contains an encoded PIN, while the label on the right is blank. When ordering PIN PAL, you receive blank labels with instructions for proper use. PIN PAL labels are made from space age synthetics, waterproof and extremely durable.